The Chiropractic and Podiatry Centre
In September 2011 Mr. Dimou established the chiropractic and podiatry centre in the south suburbs of Athens. The new center is located in a very quiet neighborhood in Ano Glyfada. With easy parking, a comfortable waiting room and 4 different treatment rooms depending on the patient's needs, the new center ensures high quality services.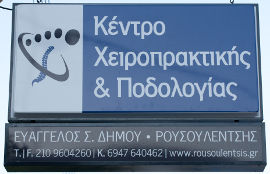 The podiatry room provides the latest technological equipment for static and dynamic gait analysis and foot scanning examination. Together with the moulding equipment and the foam boxes for casting patients feet, custom made orthotics are manufactured in order to accomplish every patients needs.
Finally, each chiropractic room has a different type of table. A new Hi-Lo with drop pieces and a flexion distraction chiropractic table enables the chiropractor to select the most appropriate form of treatment for his patients.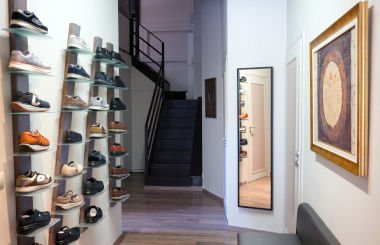 Curriculum Vitae
Dr Evagelos Dimou was born in 1974 in a small town north of Greece, called Edessa. In 1992, he studied physiotherapy at the private PASTER Institute in Thessaloniki. In 1996, after he completed his military service, he moved to the United Kingdom to study Podiatry, and graduated in 2000 from the University of Brighton with a BSc (Hons) Podiatry degree. Whilst working as a part-time Podiatrist in the south coast of England, he studied Chiropractic at the University of Surrey in Guildford, and in 2003 was awarded a Masters degree in Chiropractic (MSc DC Chiropractic) and is recognised by the General Chiropractic Council of Great Britain as a Doctor of Chiropractic.
He returned to Athens, Greece, in 2003 and worked as a Podiatrist and Chiropractor under supervision for a year as part of his placement, in order to register with the Greek Podiatry and Chiropractic Associations. Dr. Dimou now runs his own clinic in Athens, where he combines Physiotherapy, Chiropractic and Podiatry.
Mr. Dimou is registered with the Greek, British, European and International Chiropractic Associations and he regularly attends international chiropractic conventions. He is also member of the Greek and British Society of Podiatrists and the Health Professions Council (HPC) of Great Britain.
In terms of Chiropractic and Physiotherapy Mr. Dimou specializes in musculoskeletal conditions, and with the use of adjustments and soft tissue work he overcomes the structural and functional problems of the skeleton. In terms of podiatry, he specializes in gait analysis and biomechanics of the lower limb with the use of orthotics.
History
Mr. Dimou comes from Edessa, a small town in northern Greece, about 90km northwest of Thessaloniki, the second biggest city in Greece. His family tree holds its routes at the small village 'Xanthogia', 25km north of Edessa, and until 1969, all the relatives of Dr. Dimou's family lived in Xanthogia, their main occupation being farming and agriculture.
In 1812 one of his relatives observed injured pets around the village, and when one was limping, he would try to "feel the problem and put the bones back in place" just by using his hands. In those days, this technique was called 'bone-setting', which is a synonym for the modern term 'Chiropractic', which means "do by hand". Initially, this bone-setting skill was only a hobby, but with time the results were impressive, as many animals in the village stopped limping. Later on, the people from Xanthogia, and the surrounding villages began to visit him for their musculoskeletal problems. After a couple of visits, they could see that their low back or neck pain was getting better with these "invented" techniques/adjustments of the spine.
From those days, these skills have been passed from father to son, and at this time, Dr. Dimou is the 7th generation therapist to practice Chiropractic, and the first member of the Dimou family to attend a Chiropractic University and so be able to combine the traditional bone-setting skills with current Chiropractic techniques. Dr. Dimou's father is now retired, but his brother, a physiotherapist, is practicing in Edessa, combining bone-setting and physiotherapy techniques.
Chiropractic and Podiatry Centre
5

out of

5
with
123
testimonials