EVAGELOS DIMOU - ROUSOULENTSIS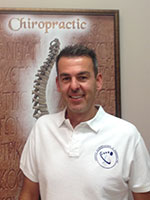 Chiropractor - Podiatrist
Clinical director of the Chiropractic and Podiatry Centre. As a Chiropractor he specialises in adjustments of the spine for musculoskeletal conditions. As a Podiatrist he specialises in the biomechanics of the lower limb with the use of computerized foot scanning for the manufacturing of custom made orthotics.
KRINIO MAITOU
Physical Therapist
Graduated from ATEI Patras - Department of Physical Therapy. Specialised in rehabilitation of muscular strains and trigger points.
GEORGE GRATSIAS
Physical Therapist
Graduated from IEK SBIE. Specialised in kinisiotherapy, muscle strains and sport injuries rehabilitation. Also specialised in muscular strengthening, injury precaution, kinisiotaping, myofascial release techniques and TRX.
NIKOLAOS KEFALAS
Special kinesiologist
Graduated at IEK Varis. Specialised in trigger point therapy, ligament and tendon injuries, rehabilitation exercise, graston and kinisiotape techniques.
PETROS KATSIAVOS
Receptionist
Τ.Ε.Ε Computing studies. Front desk support. Commercial director and public relations.
KALIA GALAIOU
Receptionist
Graduate from university of French language and philology of Athens. Secretary of chiropractic and podiatry clinic.
Chiropractic and Podiatry Centre
5

out of

5
with
123
testimonials